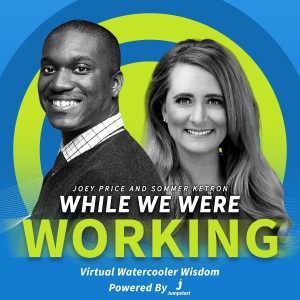 Wednesday Dec 14, 2022
4 Signs A Job Candidate Is Lying On Their Resume & What To Do About It
Recent studies show that 32% of Americans admit to lying about their resume summary. As a small business owner, knowing how to handle this scenario is crucial if you want to hire the best talent. Fortunately, there are some ways to determine whether someone is lying on their job application easily.
In this week's episode, Sommer and Joey share 4 signs a job candidate is lying on their resume and how to handle it. Tune in to find out more!
You'll learn why job candidates lie on their resumes, how it might affect your business, and a few strategies to avoid fraud during the hiring process.
Joey and Sommer also discuss whether COLA (Cost-of-Living Adjustment) could be detrimental to your small business by rewarding mediocre performance. They analyze the relationship between COLA and performance and share a few team management strategies to drive performance and grow your business.
Key Takeaways 
4 signs a job candidate is lying on their resume (00:00)

What are people lying about on their resumes? (03:28)

The best way to confirm a candidate's job experience (07:56)

How to know if someone is lying on their job application (09:46)

Does COLA reward mediocre performance? (13:12)

Highly skilled vs. highly engaged team members (14:14)

The best strategy to drive performance and growth (18:22)
Additional Resources
📰 Article in question:
https://www.hcamag.com/us/specialization/hr-technology/32-of-americans-admit-to-lying-on-their-resume/428440
--
Do you need HR consulting for YOUR small business? We got you covered!
👉 Learn more at: https://jumpstart-hr.com/
Do you have a question that you want us to tackle on the show? 
📧 Email us at: hello@jumpstart-hr.com
Java With Joey (Monthly Small Business CEO Mastermind) - https://community.jumpstart-hr.com/offers/mwka2AyB/checkout
👉 Join our Empowered People Leaders Community [FREE Access] - https://community.jumpstart-hr.com/offers/MwchLoyL/checkout
👉 Join our Student and Early Stage HR Pro community - 
https://community.jumpstart-hr.com/offers/pWTbD2Ue/checkout
Hosts: Joey Price & Sommer Ketron
This show is powered by Jumpstart:HR, LLC 
www.Jumpstart-HR.com
Comments
(0)
To leave or reply to comments, please download free Podbean or