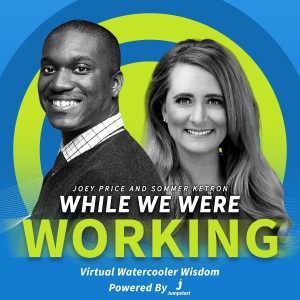 Wednesday Feb 01, 2023
Big Tech Layoffs: The Top Talent Acquisition Opportunity For Small Businesses In 2023?
During The Great Resignation, countless tech workers left their jobs searching for higher pay. But as the wave of tech layoffs keeps accelerating, tech employees are rethinking whether to leave their job and face a highly competitive search. So, what does this mean for small businesses, especially regarding talent acquisition?
This week, Joey and Sommer discuss the implications of Big Tech's layoffs on small businesses:
Why the job market changed so quickly.

Why it's a unique opportunity for employers to hire top talent.

How to upgrade your talent acquisition strategies. 
In this episode's 'Consultant's Corner,' Sommer and Joey share their views on employees' mental health and productivity. Discussing mental health and medication management challenges can be an uncomfortable and tricky topic, especially when there are performance issues. So, as a manager, what is the best way to balance productivity and an employee's mental health?
Tune in to find out!
Key Takeaways
The best talent acquisition opportunity in 2023 (00:00)

What is 'The Great Recommitment?' (06:09)

Best talent acquisition strategy for hiring managers (07:43)

What to look for in candidates (11:25)

How to manage employees' mental health and productivity (14:33)

The dos and don'ts of discussing mental health and performance (18:48)

What employers must know about reasonable accommodations (22:39)
Additional Resources
Check out our YouTube channel: https://youtube.com/@jumpstarthr
Do you need HR consulting for YOUR small business? We got you covered!
👉 Learn more at: https://jumpstart-hr.com/
Do you have a question that you want us to tackle on the show? 
📧 Email us at: hello@jumpstart-hr.com
--
📰 Article in question:
https://www.marketwatch.com/story/it-is-an-employers-market-tech-layoffs-may-have-turned-the-great-resignation-into-the-great-recommitment-11674511211
--
Verified First provides quality pre-employment screening, criminal background checks, verifications, and drug testing for businesses. Get better hires and ensure the safety and security of your workplace!

Learn more at: https://partners.verifiedfirst.com/aspx/referralpage?refer=OgzlxC3x02ogiSx7hU1pu4hlfn5z3HBbqZZMN2o7Bcc1
Hosts: Joey Price & Sommer Ketron
This show is powered by Jumpstart: HR, LLC 
www.Jumpstart-HR.com
Comments
(0)
To leave or reply to comments, please download free Podbean or