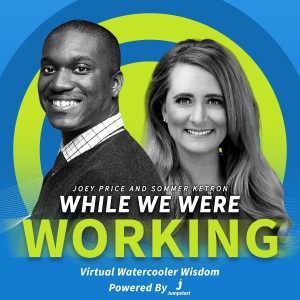 Wednesday Jan 18, 2023
ChatGPT - The Revolutionary AI Chatbot That Could Change the Job Market
It was only a few weeks ago that ChatGPT was released, and it has already been seen as a tool that could potentially replace thousands of jobs and even make search engines obsolete. 
This technology can write complex essays and even code, which has implications for the future of jobs in fields such as development, sales, and marketing. Also, It is currently free to use, which makes it something worth paying attention to from both an employment and commercialization standpoint.
So, will this technology make knowledge workers who currently do tasks such as writing copy and researching/compiling reports redundant? Or are human beings still irreplaceable in these positions?
Tune in for this week's podcast to find out! 
Joey and Sommer are also diving into the juicy topic of what to do when you suspect office romance.
Brand new mind-blowing AI technology + love is in the ai… office = you definitely don't want to miss this episode!
Key Takeaways
Jumpstart's proud to be recognized by Fit Small Business (00:00)

What is ChatGPT, and how could it

render search engines obsolete?

(04:39)

How

ChatGPT

works (09:05)

What to do when you suspect office romance

(13:26)

The worst-case scenario of an office romance (17:10)

Written policy on the risk of love relationships between coworkers and actual or perceived favoritism (19:56)
Additional Resources
Check out our YouTube channel: https://youtube.com/@jumpstarthr
Do you need HR consulting for YOUR small business? We got you covered!
👉 Learn more at: https://jumpstart-hr.com/ 
Do you have a question that you want us to tackle on the show? 
📧 Email us at: hello@jumpstart-hr.com 
--
📰 Fit Small Business's article: https://fitsmallbusiness.com/best-hr-outsourcing/ 
--
See why over 7,000+ companies trust Verified First with their screening needs: https://partners.verifiedfirst.com/aspx/referralpage?refer=OgzlxC3x02ogiSx7hU1pu4hlfn5z3HBbqZZMN2o7Bcc1
Hosts: Joey Price & Sommer Ketron
This show is powered by Jumpstart: HR, LLC 
Comments
(0)
To leave or reply to comments, please download free Podbean or