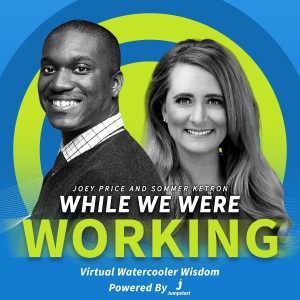 Wednesday Nov 23, 2022
Chicka Elloy Explains Ego Depletion & How It's Ruining Your Small Business
Decision fatigue is a common topic in business - you've probably heard about Steve Jobs notoriously wearing the same uniform daily in order to avoid it. But have you heard of ego depletion?
Chicka Elloy is an award-winning HR consultant, VP of People & Employee Experience at Mavrck and Chief Learning Officer at CLO Media. He has helped multiple businesses streamline talent management and leadership development with impressive results.
Chicka joins Sommer and Joey today to discuss everything you need to know about ego depletion: what it is, what some of its symptoms are, and what we can do to prevent it.
In this episode's Consultant Corner, Chicka shares his 3 C's of positive company cultures. You'll learn what a positive company culture looks like, what some of the critical factors are, how to know if you've got a great culture, and more.
Tune in to find out more!
Key Takeaways 
How ego depletion is harming the workplace (00:00)

Chicka's background and journey (02:31)

What is ego depletion, and how does it appear in our workplaces? (05:17)

The power of fast decision-making in a sea of choices (08:23)

What can we do to help prevent ego depletion? (16:39)

Why your organization's culture is crucial to success (19:40)

How Chicka creates an amazing workplace culture (24:46)

The best thing you can do for your team and yourself (29:24)
Additional Resources
📰 Article in question:
https://www.amazon.es/Willpower-Rediscovering-Greatest-Human-Strength/dp/0143122231
Do you need HR consulting for YOUR small business? We got you covered!
👉 Learn more at: https://jumpstart-hr.com/
Do you have a question that you want us to tackle on the show? 
📧 Email us at: hello@jumpstart-hr.com
Java With Joey (Monthly Small Business CEO Mastermind) - https://community.jumpstart-hr.com/offers/mwka2AyB/checkout
👉 Join our Empowered People Leaders Community [FREE Access] - https://community.jumpstart-hr.com/offers/MwchLoyL/checkout
👉 Join our Student and Early Stage HR Pro community - 
https://community.jumpstart-hr.com/offers/pWTbD2Ue/checkout
Hosts: Joey Price & Sommer Ketron
This show is powered by Jumpstart:HR, LLC 
www.Jumpstart-HR.com
Comments
(0)
To leave or reply to comments, please download free Podbean or