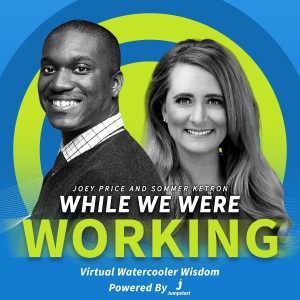 Wednesday Mar 08, 2023
Managers Have Bigger Impact on Employee Mental Health than Therapists and Doctors
A report by the Workforce Institute at UKG reveals that managers significantly impact their employees' mental health. In fact, the report found that managers have a greater influence on employee mental health than therapists or doctors and an equal influence to spouses and partners.
The report revealed that the quality of the relationship between managers and employees is critical to employee mental health. Managers who demonstrate empathy, respect, and support for their employees can positively impact their mental health. 
The major takeaway from this report is the importance of managers having the necessary training and resources to support their teams. Managers who are equipped with the tools and knowledge to support their employees' mental health are better positioned to foster a positive work environment and improve employee well-being.
In the 'While We Were Working' Segment, Sommer and Joey go through the eye-opening findings from this report and what it means for employers.
In the 'Consultant's Corner' segment, we tackle the tangled web of developing leave policies.
Workplace leave policies are essential to ensure that employees can take time off when they need it without risking their jobs or pay. 
In this section, we'll explore the best practices for developing workplace leave policies for employees scattered around different jurisdictions. 
We'll provide tips and strategies for ensuring compliance with relevant laws and regulations while also creating fair and equitable policies for all employees.
Let's dive in!
Key Takeaways
- How managers impact mental health on their teams (03:58)
- Training managers to take care of the well-being of their teams (05:29)
- Toxic workplaces are a national hazard (07:37)
- Employees would prioritize mental health over higher pay (09:33)
- Tips for managers (10:47)
- The tangled web of developing leave policies (16:58)
- How to write fair and equitable leave policies (22:49)
Additional Resources 
Check out our YouTube channel: https://youtube.com/@jumpstarthr
Do you need HR consulting for YOUR small business? We got you covered!
👉 Learn more at: https://jumpstart-hr.com/
 Do you have a question that you want us to tackle on the show? 
📧 Email us at: hello@jumpstart-hr.com
 -- 
📰 Article in question: https://workforceinstitute.org/research/
-- 
monday.com | A new way of working: https://try.monday.com/wwww
--------
 Hosts: Joey Price & Sommer Ketron
This show is powered by Jumpstart: HR, LLC 
www.Jumpstart-HR.com
Comments
(0)
To leave or reply to comments, please download free Podbean or