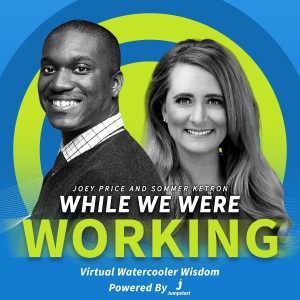 Wednesday Jun 14, 2023
Next-Level Recruitment Best Practices and the Benefits of Partnering with a Recruitment Agency
Recruiting top talent has always been a critical challenge for organizations across industries. Hiring the right individuals who possess the necessary skills, experience, and cultural fit can significantly impact a company's success and growth.
In today's competitive job market, businesses are turning to recruitment agencies to streamline their hiring processes and improve their chances of finding the best candidates.
In this episode, I am joined by Cody Cochran – JumpStart's Resident Recruiting Manager, to explore the importance of working with a recruitment agency and highlight the best practices organizations should adopt to optimize their recruitment efforts.
One of the primary reasons why partnering with a recruitment agency is crucial is the access to specialized expertise.
Recruitment agencies employ professionals with extensive knowledge and experience in various industries and job functions.
These experts understand the current trends, market demands, and candidate expectations, enabling them to identify and attract the most qualified individuals. By leveraging this expertise, organizations can enhance their recruitment strategies and stay ahead of their competitors.
But perhaps the most important reason why you should work with an agency is the massive time and cost savings that come by when a candidate is the right fit.
Tune in to learn more about recruiting best practices and why working with an agency is essential for success.
Key Takeaways
- Meet Cody Cochran – JumpStart's Resident Recruiting Manager (01:05)
- Why is effective recruitment so important for business? (02:20)
- What are some of the components of a really great recruiting process? (7:11)
- The first step is finding the right person for the job (13:02)
- What's the difference between a recruitment agency and an outsourcing company? (14:12)
- What is a Recruiting Partner? (16:57)
- The cost of getting it right is less than getting it wrong (19:30)
- The turnover costs of a bad hire (21:52)
- Cody's parting thoughts on the current state of recruiting (24:24)
Additional Resources 
Check out our YouTube channel: https://youtube.com/@jumpstarthr
Do you need HR consulting for YOUR small business? We got you covered!
👉 Learn more at: https://jumpstart-hr.com/
Do you have a question that you want us to tackle on the show? 
📧 Email us at: hello@jumpstart-hr.com 
-- 
[Free] Whole Self Thursday: https://community.jumpstart-hr.com/whole-self-thursdays
----
[Paid] HR Essentials Six-Week Course: https://community.jumpstart-hr.com/essentials
----
Hosts: Joey Price & Cody Cochran
This show is powered by Jumpstart: HR, LLC 
Comments
(0)
To leave or reply to comments, please download free Podbean or