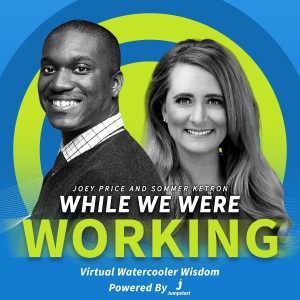 Wednesday Feb 15, 2023
The Office Affair: How Love Contracts Are Protecting Employees and Employers
Just how well do employees in America love their jobs?
In this Valentine's edition episode, we are all about love in this episode.
Unfortunately, according to a Gallup poll, there is a downward trend in employees loving their jobs and an upward trend for employees who report hating their jobs.
The findings in this poll are surprising, and some staggering figures we should all take note of.
But what are those micro things that might result in people not having that love affair they once had with their employer?
Tune in as we dig deep into the 5 main things that will affect your employee engagement!
In this episode's 'Consultant's Corner, 'and it being Valentine's Day week, what better time than now to brush up on some workplace romance policies that will keep your company safe? 
Joey and Sommer go through the intrigues of office romance and how to keep everybody safe and sane with a 'love contract.' Tune in to learn more!
Key Takeaways
- Employee engagement in the United States (02:28)
- Why people do not love their jobs (03:51)
- The 3 demographics falling out of love with their employers (06:13)
- What employees need to give their best (09:59)
- Nothing says ''I love you like a love contract (12:37)
- How Love Contracts protect employers and employees (13:01)
- How quickly workplace romance can turn messy (16:39)
Additional Resources
Check out our YouTube channel: https://youtube.com/@jumpstarthr
Do you need HR consulting for YOUR small business? We got you covered!
👉 Learn more at: https://jumpstart-hr.com/
Do you have a question that you want us to tackle on the show? 
📧 Email us at: hello@jumpstart-hr.com
--
📰 Article in question:
https://www.gallup.com/workplace/468233/employee-engagement-needs-rebound-2023.aspx
--
Quickbooks: https://refer.quickbooks.ca/s/jprice
--------
Navigating Difficult Decisions: A Guide To Small Business Layoffs: https://community.jumpstart-hr.com/navigating-difficult-decisions
Hosts: Joey Price & Sommer Ketron
This show is powered by Jumpstart: HR, LLC 
www.Jumpstart-HR.com
Comments
(0)
To leave or reply to comments, please download free Podbean or