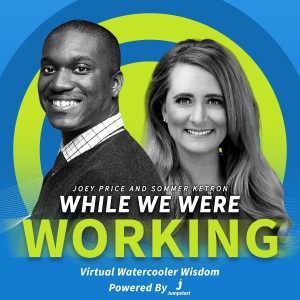 Wednesday Apr 19, 2023
The Rise of AI in HR: What You Need to Know to Stay Ahead of the Game
As technology continues to advance, it's becoming more and more evident that the future of HR lies in the integration of artificial intelligence (AI).
AI has already made significant strides in various fields, and HR is no exception. From hiring to employee retention and everything in between, AI is revolutionizing how we do business.
However, the use of AI in HR raises several concerns, such as privacy, ethics, and the potential for bias. It's essential to create policies that address these concerns while reaping the benefits of AI.
In the While We Were Working Section, Sommer and I explore the implications of AI on HR policies and provide tips on how to prepare for its integration.
In the Consultants Corner, we answer a question we received regarding the importance of an employee handbook and whether you should use a wizard to create it.  
Creating an employee handbook is an essential part of managing a business. A handbook lays out the expectations and guidelines for employees and can help ensure everyone is on the same page.
While it may be tempting to use pre-made templates or wizard tools, the potential risks and pitfalls are too great to ignore.
With a customized handbook that reflects your business's unique culture and values, you can ensure that your employees have the tools they need to succeed while protecting your business from potential legal issues.
Tune in as we explore these topics in this episode!  
Key Takeaways
When AI meets HR (03:24)
Data privacy issues around AI (04:29)
Developing an AI policy in the workplace (09:01)
Utilizing AI in hiring (10:57)
Integrating AI into other tools (11:58) 
Do you really need an employee handbook (14:20)
The pitfalls of creating an employee handbook using a wizard (16:04)
Customizing your employee handbook (20:37)
Additional Resources 
Check out our YouTube channel: https://youtube.com/@jumpstarthr
Do you need HR consulting for YOUR small business? We got you covered!
👉 Learn more at: https://jumpstart-hr.com/
----
Do you have a question that you want us to tackle on the show? 
📧 Email us at: hello@jumpstart-hr.com
 -- 
📰 Article in question: https://www.inc.com/suzanne-lucas/when-ai-meets-hr-prepare-your-policies-now.html
-- 
Unlock Your Potential: Personalized DISC Assessment and Coaching: community.jumpstart-hr.com/disc
-------- 
Hosts: Joey Price & Sommer Ketron
This show is powered by Jumpstart: HR, LLC 
www.Jumpstart-HR.com
Comments
(0)
To leave or reply to comments, please download free Podbean or