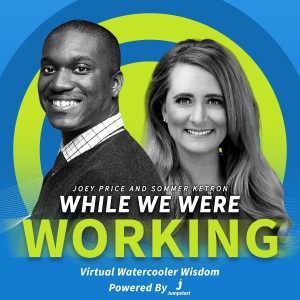 Wednesday Jan 25, 2023
The Truth About Southwest Airlines' Holiday Meltdown & Their Shocking Employee Memo
If you've been watching the news lately or traveled for the holidays, you've probably heard about Southwest Airlines' catastrophic holiday meltdown, especially what happened with the controversial memo they sent to their employees on December 21, 2022.
Southwest is known as the love airline, and they have a strong reputation for caring deeply about their passengers and employees. So, what the heck happened?
Today, Joey and Sommer share their thoughts on Southwest's infamous employee memo:
Why it could be detrimental to company culture.

What their biggest mistake was.

What small businesses can learn from this story.
Tune in to learn more!
Sommer and Joey also discuss the rise of HR scams and what small businesses can do to avoid them. As scammers multiply and develop more creative techniques to steal your sensitive data, it's crucial to know what common HR scams look like and be familiar with cybersecurity best practices. Fortunately for you, we've got you covered!
Key Takeaways
The truth about Southwest Airlines' holiday meltdown (00:00)

Southwest's internal turmoil (03:06)

Best practices on how to deal with illness (07:05)

The main problem with Southwest's approach (08:48)

What's next for the airline? (12:14)

HR scams small businesses should know about (15:24)

What scammers are doing to trick you (18:00)
Additional Resources
Check out our YouTube channel: https://youtube.com/@jumpstarthr
Do you need HR consulting for YOUR small business? We got you covered!
👉 Learn more at: https://jumpstart-hr.com/
Do you have a question that you want us to tackle on the show? 
📧 Email us at: hello@jumpstart-hr.com
--
📰 Article in question:
https://twitter.com/ruthschmidt/status/1607460985861988352
--
NordVPN is the best way to protect your online privacy and avoid cyber threats. Click the link below to get 63% off! 
Warning, it expires soon!
https://go.nordvpn.net/aff_c?offer_id=15&aff_id=81407&url_id=902


Hosts: Joey Price & Sommer Ketron
This show is powered by Jumpstart: HR, LLC 
www.Jumpstart-HR.com
Comments
(0)
To leave or reply to comments, please download free Podbean or