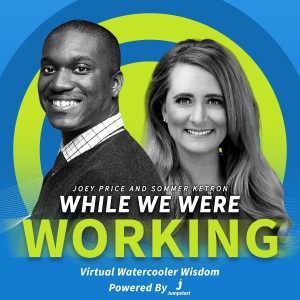 Wednesday Feb 08, 2023
What Small Businesses Need To Know About California's New Pay Transparency Law
On January 1st, California's new pay transparency law came into effect. The law requires employers with at least 15 workers to include pay ranges in job postings. 
Employees can now also ask what the pay range for their position is, and larger companies must provide more detailed pay data for California's civil rights department than previously required. So, how will this law impact small businesses in California and other states?
This week, Sommer and Joey discuss everything small businesses should know about the new pay transparency laws in California:
How they could affect the rest of the nation.

How it would affect your team and workplace dynamic.

Why small businesses should consider implementing pay transparency.
Tune in to find out more!
In this episode's 'Consultant's Corner ', Joey and Sommer also share 4 tips on successfully getting your team out of 'work from home mode' back into the office. 
You'll learn the importance of getting feedback from your team, improving productivity, and a few strategies to make the transition as smooth and balanced as possible.
Key Takeaways
What small businesses need to know about California's new pay transparency law (00:00)

The implications of California's new pay transparency and reporting obligations (05:47)

What is the goal of this new law? (08:36)

The main reason California employers need to build these pay bands (10:50)

Why you should consider adopting pay transparency (12:24)

How to get your team's opinion on working in the office (19:13)

Working from home vs. working at the office (22:30)

How to make the process a win-win situation (23:53)
Additional Resources
Check out our YouTube channel: https://youtube.com/@jumpstarthr
Do you need HR consulting for YOUR small business? We got you covered!
👉 Learn more at: https://jumpstart-hr.com/
Do you have a question that you want us to tackle on the show? 
📧 Email us at: hello@jumpstart-hr.com
--
📰 Article in question:
https://calmatters.org/economy/2022/12/california-pay-transparency-law/
--
NordVPN is the best way to protect your online privacy and avoid cyber threats. Click the link below to get a special offer! 
https://nordvpn.com/special/?utm_medium=affiliate&utm_term&utm_content&utm_campaign=off15&utm_source=aff81407


Hosts: Joey Price & Sommer Ketron
This show is powered by Jumpstart: HR, LLC 
www.Jumpstart-HR.com
Comments
(0)
To leave or reply to comments, please download free Podbean or