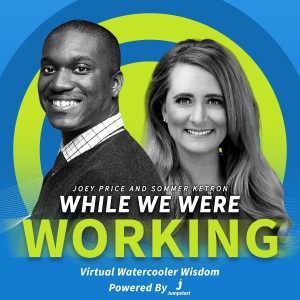 Wednesday Mar 22, 2023
Why Background Screening is Crucial for Employee Retention in the Modern Workplace
Background screening has been an essential part of the hiring process for a long time. Companies used it to ensure that their potential employees had a clean record and were suitable for the job. However, with the changing times, background screening has evolved from being just a security tool to an employee retention tool as well.
Companies are interested in identity verification to make sure the person is who they say they are.
Perhaps based on societal changes as well, the landscape of background screening now involves online screening to get to know the type of person you are hiring.
This prevents instances where companies hire somebody only to find out later they have a history of workplace misconduct allegations or somebody likely to bring a toxic environment to the workplace.
In this episode, Sommer and I are joined by Ben Mones, Fama's co-founder and CEO, an AI-based solution that makes hiring great people easy. Fama automates candidate screening and due diligence to help organizations avoid workplace misconduct, prevent costly legal action, and improve the quality of hire.
We dive deep into the topic of online screening and how it can be used as part of a broader employee retention strategy, helping companies hire the right person who fits their culture.
In the Consultants Corner, we talk about "bad bosses" and "bad boss behavior" in the workplace.
Did you know the No. 1 reason why CEOs get fired?
You'd be forgiven if you guessed it's due to poor financial results, but that is No 2. The no 1 reason is workplace misconduct.
Research shows that the main reason why CEOs depart companies is unethical behavior, either sexual misconduct or ethical lapses connected to things like fraud, bribery, and insider trading.
It makes sense because workplace misconduct impacts everybody, right from your fellow employees, shareholders, management teams, and consumers.
Tune in to this episode as we tackle these two topics with our special guest today in an enlightening conversation.
 Key Takeaways
- Workplace misconduct (03:32)
- How background screening has evolved over the years (06:33)
- Online screening as an employee retention tool (09:51)
- Are you hiring the right person (13:47)
- Bad boss behavior (21:58)
- The main reason why CEOs get fired (24:16)
- Background checks on social profile (29:19)
Additional Resources
Check out our YouTube channel: https://youtube.com/@jumpstarthr
Do you need HR consulting for YOUR small business? We got you covered!
👉 Learn more at: https://jumpstart-hr.com/
Do you have a question that you want us to tackle on the show? 
📧 Email us at: hello@jumpstart-hr.com
--
📰 Article in question: https://www.npr.org/2019/05/20/725108825/top-reason-for-ceo-departures-among-largest-companies-is-now-misconduct-study-fi#:~:text=Thi[…]tudy%20found
--
👉2023 Mid-Year Legislative & Regulatory Conference: https://thepbsa.org/events/2023-mid-year-legislative-regulatory-conference/
👉Ben's  LinkedIn: https://www.linkedin.com/in/ben-mones-45740a2a/
------  
Hosts: Joey Price & Sommer Ketron
This show is powered by Jumpstart: HR, LLC 
www.Jumpstart-HR.com
Comments
(0)
To leave or reply to comments, please download free Podbean or